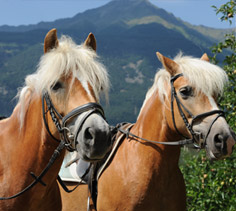 Enjoy unforgettable holidays here at Siglgut. You will feel the special flair: experience the past, enjoy the present, and think of the future - our historic farm in Tarres makes it possible.
Our farm includes a 600-yearold farmhouse, which is listed in a historic register, and a new, cosy holiday house with 4 lovingly furnished holiday apartments
A true paradise for horse lovers, hikers and other holiday makers...
Look forward to your stay at Siglgut - the Pöder Family with Siegfried and Brigitte with Tanja, Elisa and Marilena are looking forward to welcoming you.