From Tarres (800 m) you enjoy a wonderful view of the orchards in Val Venosta and the sunny slopes on the opposite side. After a short hike you reach the wonderful hiking area Tarres Pasture. At an altitude of 1,940 metres you'll find a vast selection of family-friendly round hikes and demanding high-alpine tours.
Hiking through the blooming orchards in spring provides a special experience. The ideal mild climate with long and sunny days and cooler nights is ideal for the unique taste of the apples and the apricots, which grow in Val Venosta - definitely worth tasting!
Val Martello is also a beautiful excursion destination. This is the highest valley that grows strawberries.
The sporty can discover the splendid landscape by bicycle or mountain-bike.

The nearby sports zone with soccer pitch, tennis court, ice hall, and the pool Aqua Forum offer leisure time fun for the whole family.
Autumn in South Tyrol impresses with a striking blaze of colours and provides a special nature experience. The farmers harvest the fruit, chestnuts are roasted, fresh must and new wine is tasted.
In winter you will be enchanted by the white landscape while riding, sledging, ice-skating, cross-country skiing or snow-shoe hiking.
The Ortles Ski Arena awaits skiers with 15 sunny ski resorts with snow guarantee and winter fun for the entire family.
---
Interesting sights in the surroundings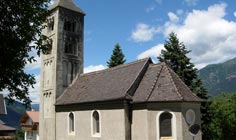 St. Karpophorus Church in Tarres
This church was a present to the German Order by Emperor Friedrich in 1214. The Romanic tower is one of the most beautiful sights from Romanesque times in Val Venosta.
---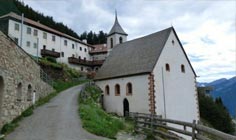 Pilgrimage church S. Martino in S. Martino al Monte
The church was first mentioned in 1510. This is an ancient place of pilgrimage of farmers.
---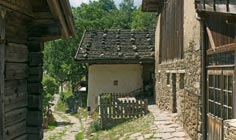 The castle was constructed by Hugo von Montalban around 1278. Since 1983 this has been the home of Reinhold Messner, who decorated the castle with several art collections.
---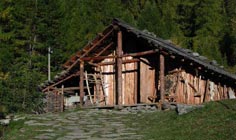 Archeoparc
The Archeoparc is located in Madonna di Senales and provides an insight into the life of people 5,000 years ago. In the open-air part of the museum visitors can learn what the Ice Man's contemporaries required for surviving in reconstructed huts, by baking bread, by using bow and arrows, by shaping ceramics and by processing flint stones and leather.
---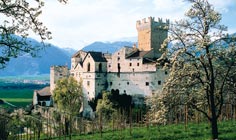 Churburg Castle in Sluderno
Churburg Castle is one of the most imposing and most beautiful castles in South Tyrol. The castle is named after the bishops of Chur, the former owners of the castle.
---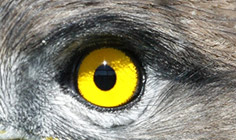 Stelvio Pass Nature Park
The Stelvio Pass Nature Park is located in the heart of the Alps and covers the entire Ortles-Cevedale mountain massif. The entire Val Martello valley and part of the Laces holiday region are located in this protected area. Being an alpine nature park you can admire all shapes and living spaces from lowlands to high-alpine areas with glaciers. The immense variety of flora and fauna impresses visitors from all over the world.